APU JAN
London based designer Apu Jan wowed the audience with his Autumn/Winter 2017 collection by simultaneously incorporating simple colour schemes, exuberant textures and feminine silhouettes. His collection was flawlessly arranged into curious binaries: real and surreal; East and West; bold and casual; traditional silhouettes and contemporary knits.
Born in Taiwan, Apu Jan juxtaposes oriental silhouettes predominantly created out of expert knitting techniques. Jan graduated from the Royal College of Art in 2012 and has since rapidly soared into the fashion industry with East-meets-West fantasy inspired collections.
Jan effortlessly juxtaposed light knits and crosshatched wool with pleated chiffon and figure skimming, intricately stripe-printed silks. He played with ruffles, ribbed pieces, and gathered shoulders, infusing these experimental knitting techniques with traditional crafts such as crochet and check.
The collection embraced a mixture of western and oriental shapes and lengths. Oriental-style sleeves and calf lengths were integrated with heavy, cut out knitted textures. Taiwanese printed silks were prominent on waist-cinching floor length gowns.
The palettes were broader than Jan's usual with peaches, burnt oranges, moss greens, dark purples, greys, blacks and various shades of white. Accessories were pared down, with black or white wooden platform brogues, ribbon tied into models hair, and thick knitted or crocheted scarves.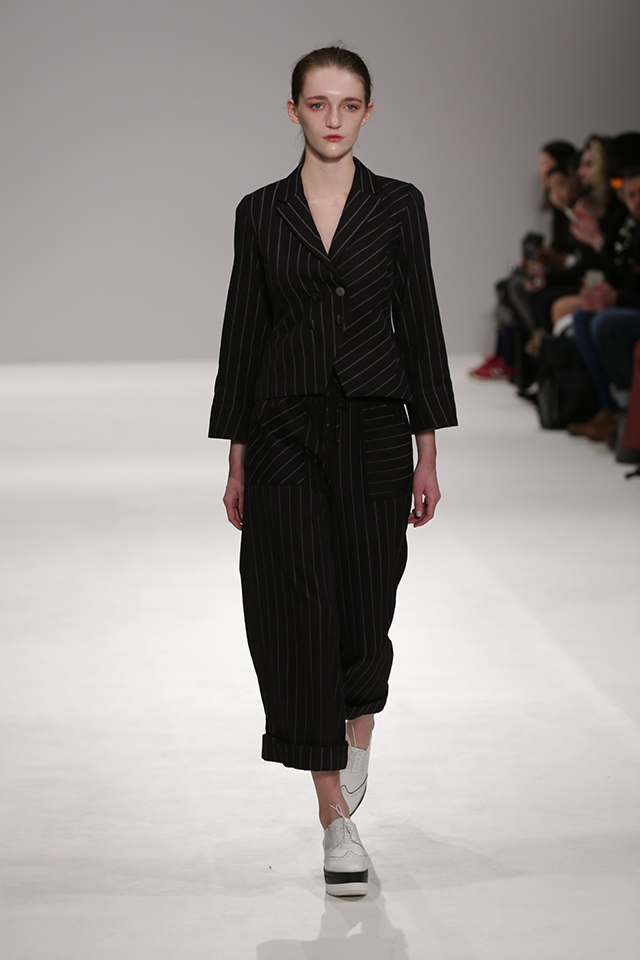 Words by Laura Cowdren
Photographs by Nicholas Kristiansen