INIFD-LST
In collaboration with the London School of Trends (LST), the Indian based National Institute of Fashion Design (INIFD) presented the results of a competition that ran across 180 INIFD centres on the runway at The Fashion Scout, this evening. Featuring the eight winners, eight finalists and two alumni students, the collection explored the topic of chaotic romance.
Having revolutionised the online design education system in India, INIFD offers a creative platform for over 35.000 students. As the largest network of design institutions, the institute spreads across seven countries over three continents and aims to up-to-date with the rapidly changing fashion industry of today. INIFD's campus in London is run by the London School of Trends (LST). LST is known for their global relationships with other institutes and their unique approach in preparing students for a career in the fashion and design world.
Highlight of the runway show was designer Sunil Vinayak's collection. Inspired by idea of birds immersed in sunlight, he used rather unconventional fabrics such as Aertex with beautiful bird embroidery.
Renuka Mahli's collection was inspired by one of the Seven Wonders of the World: The Taj Mahal. With hand-embroidered gowns, the designer gives an accurate representation of Indian royalty and their luxury dressing.
Contrasting most designers, Sineah Bijlani kept it simple with traditional silhouettes and a clean colour palette. Faux leather, raw silk and cutwork lace have been manufactured together in order to create exciting garments.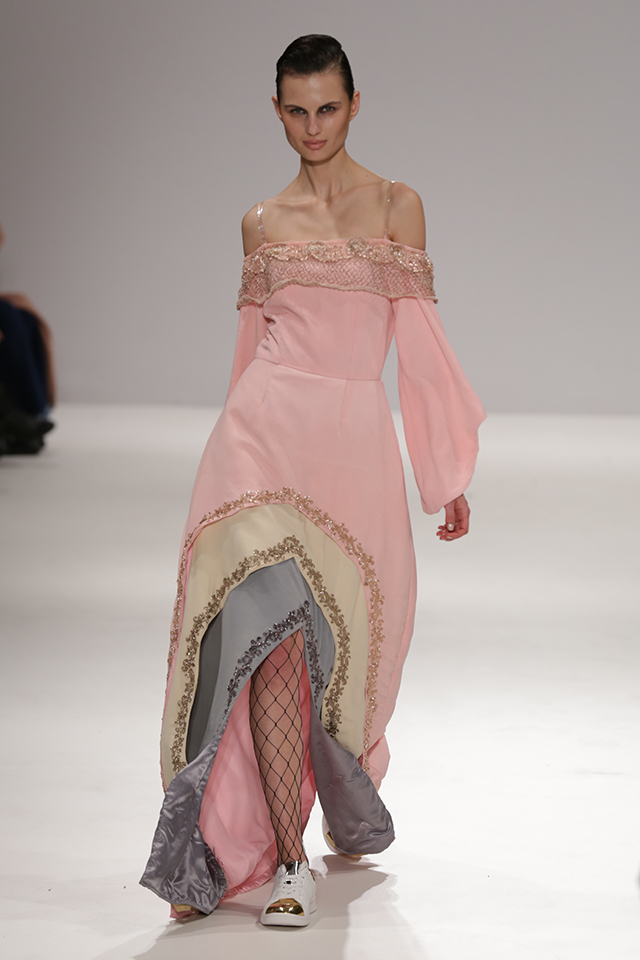 Words by Gianluca
Photography by Nicholas Kristianson