SHOW INSIGHT: ONES TO WATCH
The 'Ones To Watch' show attracted the likes of Donna Air, Olivia Buckland and bloggers such as Amy Bell (Little Magpie) and Helen Miles, whilst the rest of the room was packed with eager spectators waiting to see what was about to be showcased.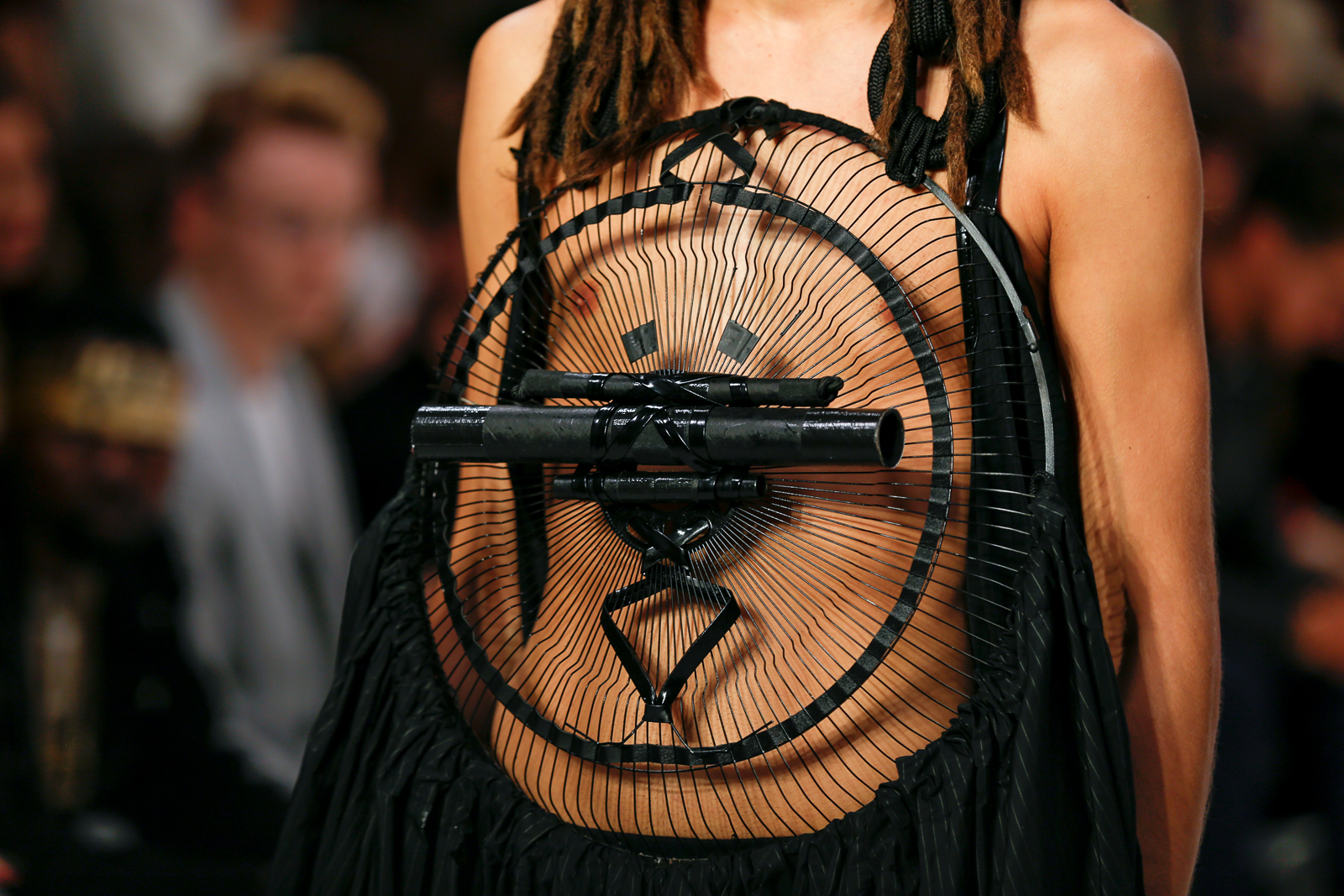 Neo Design led the way with an all black collection, bringing traditional techniques of making clothing to the new age, for the powerful and artistic. The drop crotches, linear shapes and layers were built with different materials, and had finishes ranging from quilting, to appliqué. The French plaits and tribal-like make-up, that saw red stripes across the eyes, combined with white eyeliner, nicely complimented the futuristic concepts seen throughout the collection. Established in 2014, Neo Design advocates that connectivity between past and future is necessary for a strong and healthy society, with a particular focus on the functionality of garments. Seeing it as a multifunctional unit that adapts to the wearer, the pieces were structured in their shape and paired with classic black square frames courtesy of Specsavers.
Ji Won Choi followed with a mix of monochrome looks that worked in bold colours like pink, blue and red. The linear patterns and stripes were finished with silver hardware and waist ties to accentuate figures, as this is a genderless collection. The bold and billowing shapes reflect the seasonless aspect of the collection, as the oversized sleeves were made of a lightweight material that moved with the models as they made their way down the catwalk.
Boasting minimal make-up, with the linear, cut-crease, white eyeliner, the attention was entirely on the garments. With a focus on investigating social issues in an exciting way, this collection titled EXCESSIVISM concentrated on the excess clothes we own, and broke the stigma around traditional sustainable fashion, instead, creating a fun and lively aesthetic. Classic black frames, accentuated the looks and emphasised the genderless nature of the collection.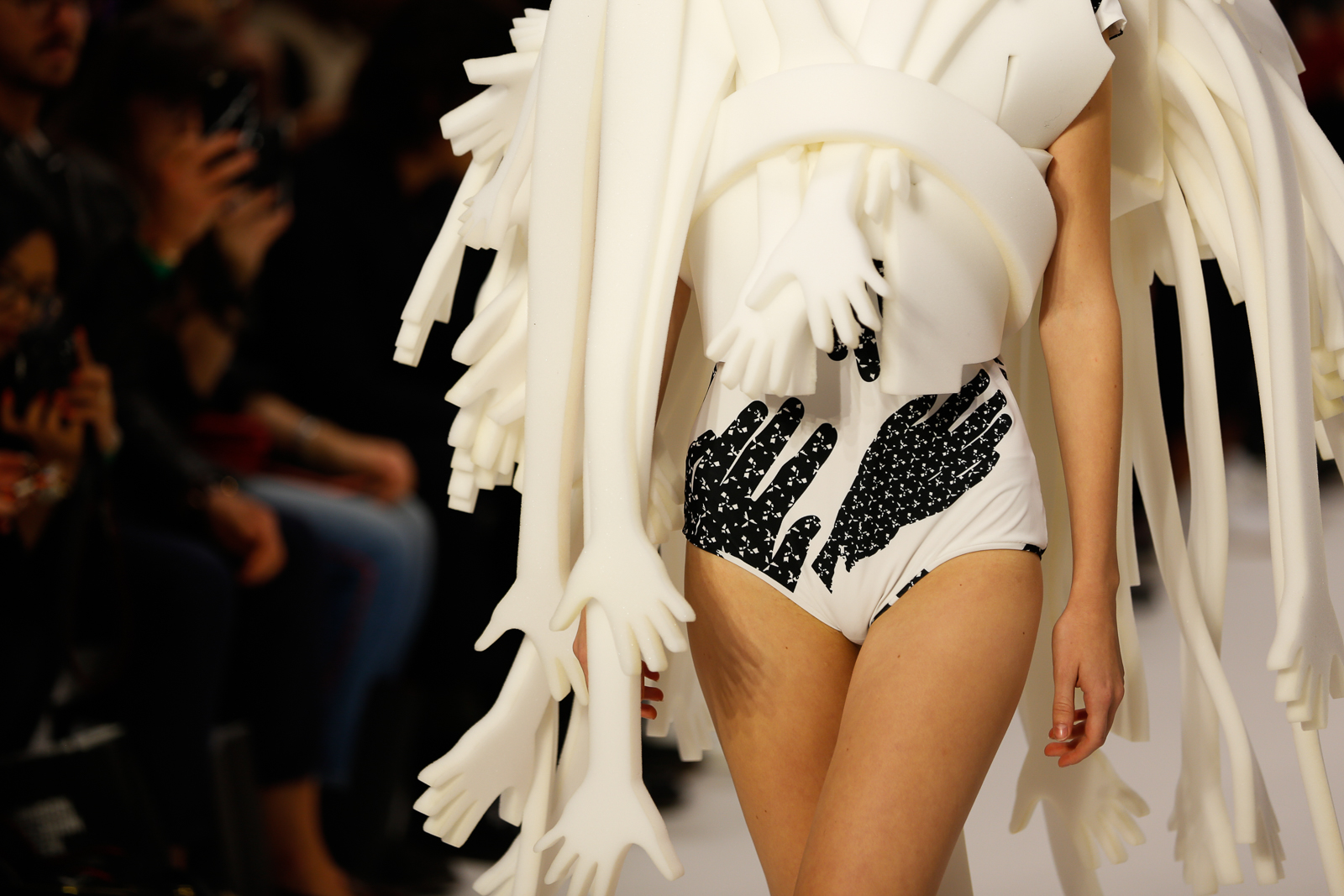 Triinu Pungits came next with a first look that sent cameras snapping away, as the model made her way down the catwalk in a monochrome leotard and foam piece that engulfed her top half. Constructed with arms and hands in all-white foam, the piece moved independently from the model, catching everyone's attention. This particular look also was seen in grey and the theme of foam hands continued, as bigger hands were worn as skirts, in all grey and all white looks.
The Estonian designer believes that body and mind should be in harmony and that self-expression is defined by attitude and freedom. Known for texture, pushing new shapes and bold pattern placements, the collection didn't disappoint with ruffled and billowing sleeves, contrasting streamlined designs and linear patterns. With a modern take on the classic trench coat, Pungits honoured a tasteful aesthetic and paired with Specsavers tortoise shell, round frames, it made for a special showcase.
Finally, wrapping up the show was Starsica who covered the models in stickers and accessorised each model with a hat, with some wearing the 'Starsica' branding. This lively, bold and fun show, had no colour theme, instead we saw a lot of use of tulle, to create texture and ruffles that was in the form of mini, midi and maxi dresses. Paired with artificial grass briefcases, skyscraper heels and florescent colours, Starsica honoured his niche of innovative design elements and details with the concept of modern elegance through experimental approaches.
Words by Zoe Bennetts
Photos by Nicholas Kristiansen