RETROSPECTIVE ON FASHION SCOUT SS18- OUR MOST DIVERSE SEASON YET
Fashion Scout is proud to celebrate an international fashion community, providing a platform for emerging and established design talent to showcase during London Fashion Week. As a platform, Fashion Scout in renowned for championing, nurturing and showcasing creative design talent from across the globe and being the launchpad for hundreds of designers.
As Spring Summer 18 drew to a close last week, we are taking a look back at the five day event that took place in the iconic Freemasons' Hall. The designers work emulated the grandeur of the building, with the variety of cultures, influences and inspirations coming together under one roof. Fashion Scout the international showcase for fashion pioneers has been reflecting on the 23rd season for the UK's largest independent and globally renowned platform.
The SS18 season was one of the most diverse Fashion Scout's ever with collections shown for differently-abled bodies, prominently genderfluid pieces and models from a diverse spectrum of cultures, ages and gender identities. Designers showcased on the platform from over 16 countries from around the world including; Russia, Turkey, Japan, Norway, India, Philippines, Serbia and South Korea alongside multiple UK based designers.
During the Swedish School of Textiles, Louise Linderoth sent a collection entitled 'Take A Seat' down the catwalk, among 21 other graduates work. The pieces were created for and modelled by those with differently abled bodies, demonstrating that fashion ultimately is about self expression whoever the individual may be. The deconstructed denim pieces were inventive in their essence, and showed the malleability of denim as a textile.
Louise Linderoth's collection 'Take A Seat' was showcased as part of the Swedish School of Textiles show.
There were 31 catwalk shows including 12 group catwalk shows from Designer Collectives and International University MA and BA showcases. Apu Jan, a London based label known for emphasising the feminine form and combining traditional and oriental elements with a contemporary twist, held a catwalk show in the beautiful Grand Temple with an audience of up to 500 guests.
EDDA, SS18's Merit Award Winner, originates from Norway and cast a diverse spectrum of women to take part in her presentation.
"This season has been hugely successful for Fashion Scout. We have seen a large uptake in international and British designers applying to show on the platform making the selection process very difficult due to the sheer amount of talent. All of the designers selected, have demonstrated what Fashion Scout set out to do 11 years ago - supporting innovative emerging and established designers from around the world. Our two platform awards of Merit and One's To Watch continue to grow season upon season and we are proud to see diversity across our designers, models and collections going down the catwalk."
-Martyn Roberts, Founder and Creative Director of Fashion Scout
Dumpty, a design partnership headed up by Xiaoru Liu and Linbing Zhue showcased their collection on both male and female bodies, from a spectrum of age groups.
"It was brilliant to see designers from past British Council and Graduate Fashion Week or Fashion Scout collaborations showing at Fashion Scout, such as Nelly Rose Stewart and Billie Jacobina, both previous Ones to Watch winners, as well as Belgrade Fashion Week. It was also great to read the new Fashion Scout publication 'Pioneer' - the representation of international designers, especially within Ones to Watch and the Merit Award, is important now and sends a message about why the British fashion industry needs diversity in order to flourish."
-Kendall Robbins, Fashion Programme Manager at British Council
For the first time in the four year history of the One's To Watch group showcase Award, the four winners were all international designers. Ji Won Choi, a graduate of Parsons in New York showcased a gender neutral, season-less collection featuring architectural lines and primary block colours. Starsica, from Seoul, the storytelling designer explored the power of accessories and facial decoration.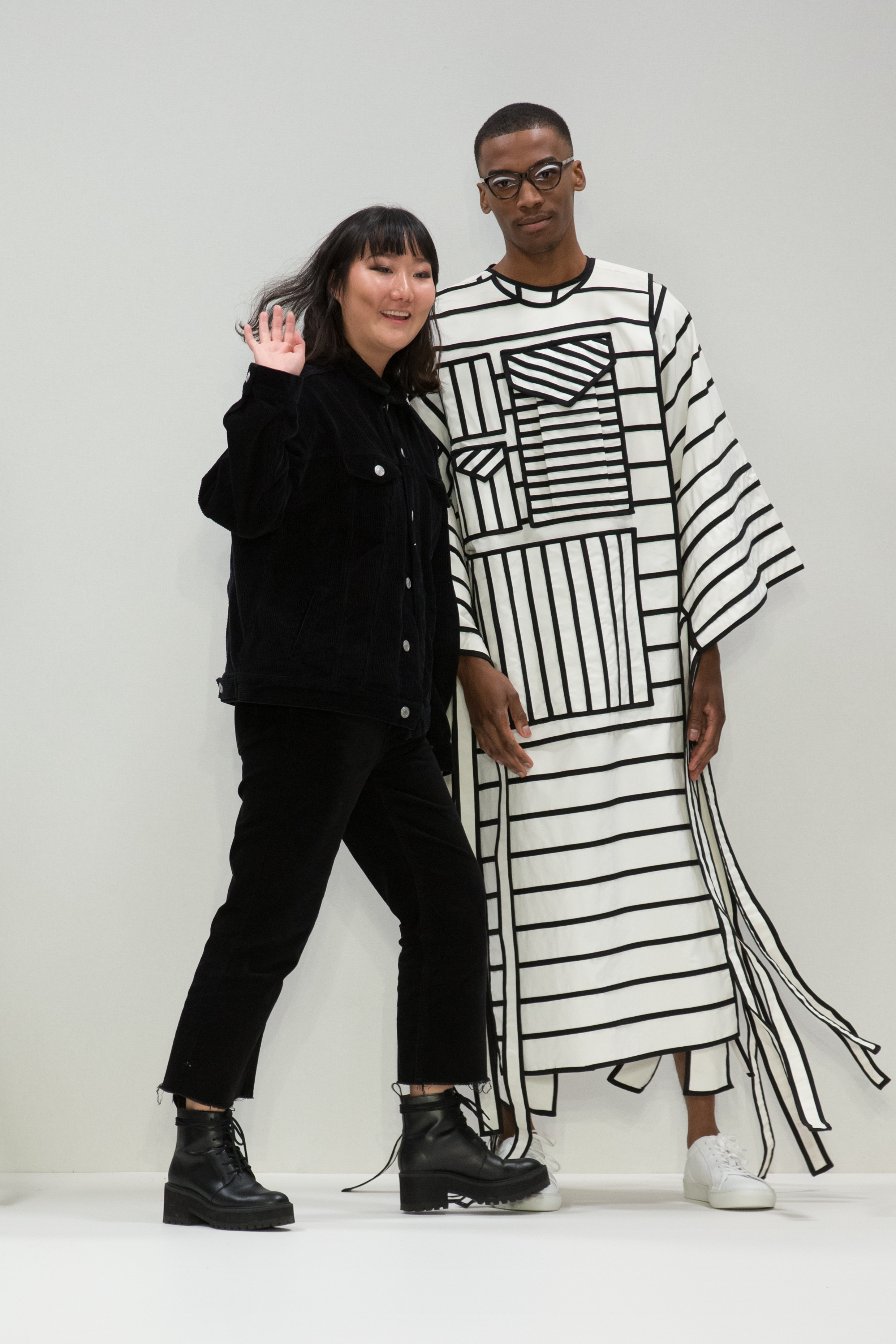 Triinu Pungits from Tallinn, Estonia and NEO Design, from Belgrade, Serbia both impressed the Ones To Watch audiences with artistic inventive design. Triinu Pungits sent a piece constructed from multiple arms and hands in all-white foam, a piece that questions the notion of the harmonious existence of body and mind. NEO Design led the way with an all black collection, bringing traditional techniques of making clothing to the new age of modernity.
Mark Fast held a glamorous catwalk show, with pieces modelled by the inspirational Miss Fame. Miss Fame is known as the "The Super Model Drag Queen". Having taken part in the fantastically popular Ru Paul's Drag Race, Miss Fame is fast becoming a household name. Her appearance in the show brought to light that Mark Fast designs to encourage people to embrace yourself and your shape, irrespective of gender identity- anyone and everyone can be part of the fashion industry.
"What an honour to close Mark Fast SS18 London Fashion Week show. I felt so connected to the energy of the room and the incredible artistry I was able to showcase on my body by the talented designer Mark Fast. Big kiss"
-Miss Fame via social media
On Tuesday, INIFD-LST: The New Rashtra and Innovation X: A Portrait of India took place, showing not only beautiful innovative pieces from Indian designers, but traditional mesmerising Indian dance.
Overall the five days of Fashion Scout SS18 were the most diverse and celebratory in all senses, from international models and designers to a cultivation of gender neutrality in design and recognition of all bodies. We look forward to continuing and fostering pioneering attitudes in the fashion industry each season.